Reading articles, watching Youtube videos, and practising will only get you so far. For everything else, there are photography podcasts.
We have collected the 14 best photography podcasts in 2021. These are the best of the best, playing in the background when youedit your work.
Photography Podcasts
Cameras Or Whatever is hosted by Tyler Stalman. He's a family and commercial portrait photographer, who also dabbles inlandscapes. He provides what he calls a "podcast for the working photographer".
Not only does the podcast have a great name, but it is also of very high quality. It's a laid back, calm and refreshing chat with him and other photographers. They talk about many different topics.
His intelligent and penetrative conversations give you real and honest looks intophotography gearand techniques. This is a must-listen, especially forhelp in social media.
Overall: ★★★☆☆
The B&H Photography Podcast comes from B&H, the largest non-chain photo and video store in the US. Allan Weitz, the senior copywriter for the company, hosts it.
This podcast is upbeat, with a lot of energy. It can be confusing sometimes who is talking, as the conversation is free-flowing. I love this style, and they do it well.
This podcast covers some of the favourite photography topics, news, and gear. They also talk about museums, art photography and the whole industry.
It's fun and enjoyable, making it very easy to listen to in the background.
Overall: ★★★☆☆
Raymond is the host behind The Beginner Photography Podcast. He is a wedding photographer based in Indianapolis. He brings all sorts of information with him.
This is for anyone who wants to learn how tocapture stories with their cameras. Aimed at those who have an eye for an image, but unsure how to take the photography to the next, logical step.
There are interviews with other photographers too. These allow you to digest the info and keep one step ahead. This podcast merges interviews with educational content.
Definitely not a new podcast, but it is one of my favourite photography podcasts.
Overall: ★★★☆☆
Andrew Hellmich brings us The Photo Xperiment Podcast. He's aweddingandportrait photographer. In fact, he is the most awarded wedding photographer in the Central Coast in Australia.
In this photography podcast, we learn about business. The focus is on portraits, weddings and creating digital story content.
My only qualm with this podcast isn't the content, but the platform. You have to click on each link, as there is no autoplay. You also can't pause or stop without closing the window.
Overall: ★★★★☆
Ben Hartley brings us The Six Figure Photography Podcast. He's a self-taughtwedding photographer. He claims to have made a six-figure business over two years and wants to tell us how it's done.
His podcast on photography is upbeat and very open. He is also sharing his tips and giving you all the podcast show notes. Sometimes he brings on guests to talk and share their experiences.
On top of the podcasts, he also has one of the best Youtube podcasts. The podcasts are sporadic, coming to us every few weeks.
This is one of the best photography podcasts on the business of photography.
Overall: ★★★★☆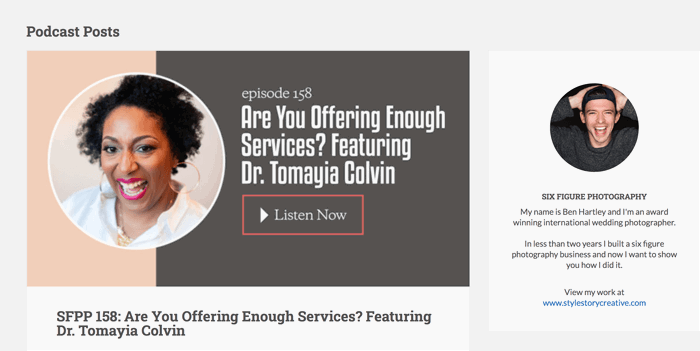 This photography podcast comes to us from Martin Bailey. He provides education and inspiration through a mixture of art, techniques, interviews and gear reviews.
I like his travelogue style episodes. They are educational and try to bring inspiration to his listeners. He looks atartandcreativitywith a seasoning of technical topics and reviews.
The enhanced part comes from how interactive the podcast is. You learn from photos and examples along the way.
You can find his podcast on Apple Podcasts or on hisphotography blog.
Are you after photography tips, improving your photography and digital storytelling? The Martin Bailey Photography Podcast is for you.
Overall: ★★★★☆
The Candid Frame is a great podcast for photographers in 2020. The voice of Ibarionex Perello is very deep and relaxing, sinking into your ears as you listen.
If you are capturing portraits, this is one of the best photography podcasts for you.
当他介绍了播客的我喜欢他的风格and talks to other photographers. He mixes in his research and findings along with the photographer's own voice and stories.
He is a former technical engineer for Nikon and associate magazine editor. Go and support him and this weekly podcast on Patreon.
Overall: ★★★★★
FroKnowsPhoto comes from the Afro toting Jared Polin. He is one of the best photographers for educational content. He is here to help youimprove photographyall across the board.
His photography podcast covers everything. Whether it looks at business, life and the state of the world, he has it. Some of them are rants on Sunday mornings, but all are honest conversations.
There is a reason why FroKnowsPhoto is one of thebest photography siteson the internet. He is a character and understands what people want to learn.
Overall: ★★★★★
Street Focus is a podcast by Valerie Jardin, a Digital Photo School author. It is a great resource for all thingsstreet photography.
I love this photography podcast. It is an ongoing exploration of street photography. There are interviews, lessons on videos, and tips. Even Q&A episodes with conversations about street challenges.
You will learn techniques, tools and even psychology related to this documentary area. Chasing light and telling stories. Catch the latest podcast episode on iTunes now.
Overall: ★★★★★
If you are looking for one of the top photography podcasts in 2021, look no further. For all things photo-related, this photography podcast is for you. Perfect for when you want to listen to something but you don't have a specific photography field in mind.
Ted Forbes is the voice behind this vocal learning tool. He is a photographer and video maker, specialising in architecture and portraiture.
His Youtube channel is like he speaks – fast and full of information. So you might need to concentrate a little more than in the case of other photography podcasts on this list.
If you are looking for gear info, digital photography, composition and more – this is for you. Especially if you have access to iTunes.
Overall: ★★★★★
The On Taking Pictures podcast is a weekly photography podcast. It's brought to you by Jeffery Saddoris and Bill Wadman. Jeffery is a photography educator and writer, and Bill is aportrait photographer.
他们之间,最好的之一,阿宝dcasts of 2020. Together they take on art, science and the philosophy behind photography. They talk well and keep it upbeat.
These photography tutorials, looking at the photography business idea, are available on iTunes.
Overall: ★★★★★
The History of Photography is for those who want to learn more about the evolution of photography. This podcast by Jeff Curto is my favourite of the photography podcasts. It has been discontinued in 2015 but the episodes stay relevant.
Jeff Curto is a professor of photography, so there is no one better to give you this information. He covers different eras. He even focuses on those prominent photographers you want to know about.
The best thing I find is that podcasts can play in the background. But if you have time, you can see a Youtube version of the same information. This is a clever way to feed us photographers information.
These photography tutorials, coveringprofessional photographersare available on iTunes.
Overall: ★★★★★
Booray Perry and Gary Hughes bring funny yet educational podcasts on photography to you. Photobomb started in 2015 and it is the perfect mixture of photography and humour.
The episodes give you the impression that the two guys are having a barroom rant about everything related to photography.
Booray and Gary discuss the latest photography news and even include listener questions in their episodes. Photobomb is a great way to learn about photography in a fun way.
Overall: ★★★★★
The host, Nikki Closer shares stories of photographers from all around the world. New episodes come on Mondays and they cover topics related to the photography business. The podcast is powered by Sue Bryce Education.
Nikki is aportrait photographer from the US. She used the business model taught in Sue Brye Education to build her successful business. Today, she is a mentor to other photographers using the same business model.
You can listen to interviews with famous and successful portrait photographers. The episodes offer great advice on how to build and run a successful portrait photography business.
Conclusion
Photography podcasts are excellent tools for improving your skills and stay up-to-date about the newest techniques. You can listen to them while doing chores, exercising, or even while you are taking photos.
Listen to a few episodes from each podcast we listed and find the one that fits your taste the best. You can also let us know if we've left any great photography podcasts off the list. We've just discovered the awesomephotography podcastavailable at PhotographyCourse.net you should check out too.
Stay tuned as we will be updating this post with the new podcasts we've been listening to soon!
For more great photography advice, check out our list ofbest cheat sheets and infographics.