Is This The Real Life? Or Is It Just Fantasy?
使用简单的Photoshop技术,用魔术和奇迹来改变您的肖像
(您今天可以尝试30个项目)
I had no idea that my old friend, Peter, could be so good at Photoshop…
您知道,彼得并不是摄影师。甚至在后处理方面经验不足。
He has always been more interested in holiday snaps than perfectly posed portraits.
但是最近的旅行限制意味着他没有什么有趣的射击。
He was stuck at home and it wasn't long before his camera started collecting dust!
当他来找我建议时,我建议他滚动浏览专家的Instagram页面以获取灵感…
And that's where he came acrossthe whimsical self-portraits of Joel Robison!
这些图像非常有趣,彼得立即签署了乔尔的私人课程之一,以便他自己尝试。
I was glad Peter had found a new way to experiment with photography, but I wasn't expecting much…
But about a week later he shared a couple of his photos with me, andI couldn't believe my eyes!
The images were so creative, magical, whimsical, and fun… I knew I wanted more…
Meet Joel Robison, the Walt Disney of Creative Storytelling Photography
Joel bends reality by riding giant snails into adventures… flying through the sky with umbrellas… taking shelter from falling coffee beans under mugs…
His style relies on创建独特的作品来讲述梦幻般的故事。
And after creating a new image every single day for more than four years…
He has perfected his approach and使任何人都可以使用在家尝试。
我自己尝试过,这是我在创意摄影中最有趣的。
It's no wonder his work has been used worldwide by clients such as可口可乐,国际足联,Yahoo, 和Adobe,吸引了500000 +在线的追随者。
He's the Walt Disney of creative storytelling photography so it was an honor to join forces and create this…
介绍:"奇妙的照片冒险"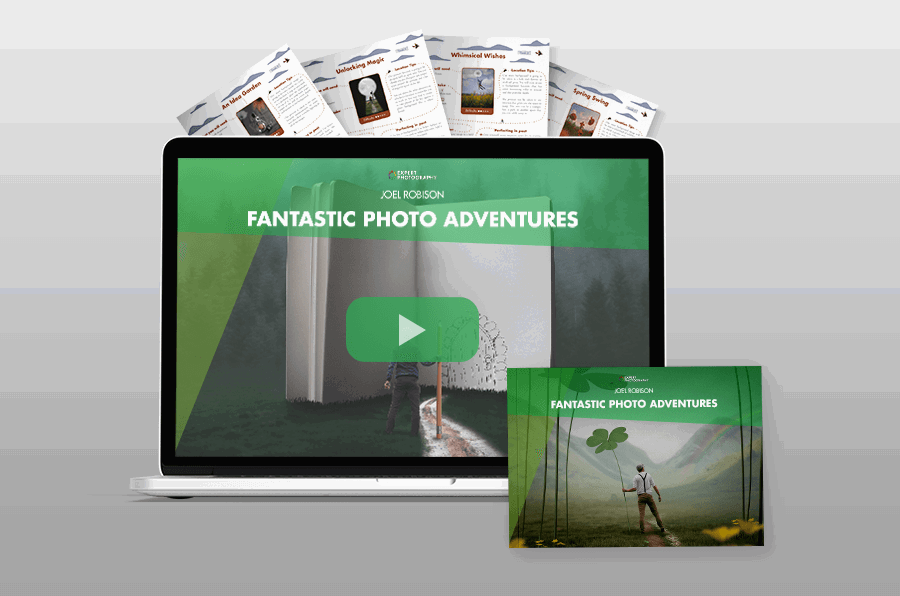 这个16小时30个项目video course shows you how to capture 30 creative storytelling photos that are out-of-this-world.
这个includes悬浮,瓦解,转型,动画等等…
Without investing in an expensive Photoshop workshop or equipment, from the comfort of your home.
您所需要的只是Photoshop和我们的视频课程和电子书捆绑包,并带有可打印的"冒险卡"(以下内容有关)。
With 30 of Joel's best ideas to choose from… you'll learn his tips and tricks and won't ever be short of inspiration.
有了"奇妙的照片冒险",您很快就会发现:
30 unique projects you can try tocreate your own whimsical images
Simple ways to use Photoshop将任何肖像变成创意冒险
易于遵循的视频教程that walk you through each project step-by-step
Cheap and easy采购和制造自己的道具的方法
如何捕获these fun photos from home,带基本装备
The video lessons average 30 minutes in length, accompanied by an ebook and a set of "Adventure Cards" cheat sheets to walk you through every step.
您不必一次甚至顺序观看视频课程。
Pick one of the 30 images you want to create
观看30分钟的视频教程
Print off the "Adventure Card" and start shooting!
Here's what Joel has to say about his exciting new product:
30 Printable "Adventure Cards" for Creative Storytelling Photography
We wanted to make the process of capturing these photos as easy as possible.
因此,乔尔(Joel)与我们的设计团队合作,为每张图像创建"冒险卡"。
The process is simple:
Pick an image and watch thedetailed instructionsin the video
Print the matching "冒险卡" for the project
收集accessoriesand find a suitable location to shoot from
Use thesimple tips捕获所需的图像
Follow thestep-by-step Photoshop完成图像的说明
The "Adventure Cards" detail how to create each image. This includes配件,组成和处理。
无论是旅途的开始还是您已经是经验丰富的探险家……这些"冒险卡"都使过程变得容易。
走进乔尔·罗宾逊(Joel Robison)的异想天开的思想
During the past decade, Joel has managed to develop his own unique style that使他出名。
We asked him to write down his thoughts on why he was able to find so much success.
并分享他创作过程中的任何关键技术。
最初的想法集已发展为一本完整的124页电子书。
它可以免费包含,因此您可以发现:
Joel's creative processfrom finding inspiration to choosing props
How to take the shot withgo-to settings和特定照片的提示
The most importantPhotoshop工具(以及它们的用途)
Use this ebook to find and realize your creative vision, and watch the videos to perfect your images in Photoshop.
忘记了Photoshop和昂贵道具的长时间
It's a common misconception that images like Joel's require lots of props and long hours of editing.
The truth is, Joel uses everyday objects you can find around your home to create his whimsical scenes.
And with Joel's expert assistance, you'll never need to spend more than an hour in Photoshop.
相反,他专注于计划投篮。他将平凡的物体放在奇特的地方,制作这样的美妙场景: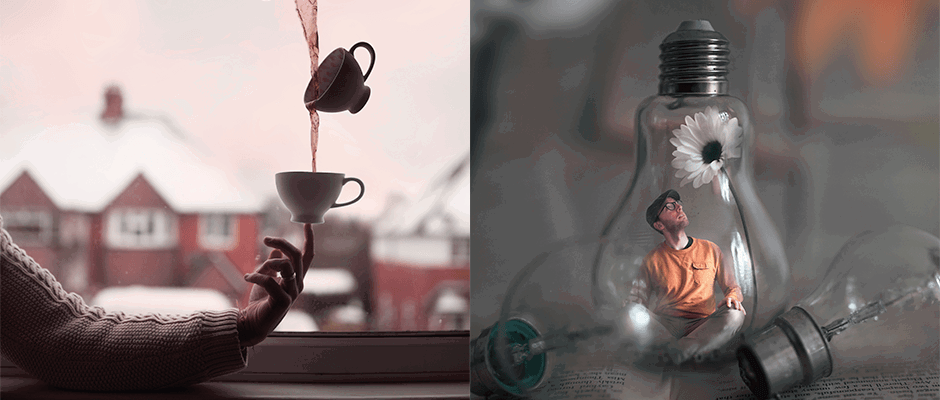 No matter the time, place, or props… you can always add wonder to your images.
如果您可以按照简单的说明进行操作,那么捕获出色的结果就像单击按钮一样容易。
30 Fantastic Projects For The Most Imaginative Photos of Your Life
想象这个。
You have a new way to create impressive images without leaving your home.
构想不是问题,因为你有数十张"冒险卡"以汲取灵感。
You place your camera on a tripod and gather some props and accessories.
There's no need to worry about composition. You already know exactly what you're going to need for your photos.
Within minutes, you have captured perfect images for your own fantastic photo adventures.
甚至在打开计算机之前,您已经知道处理图像的最快,最有效的方法。
After some further experimentation, your photos are imaginative… whimsical… and simply fascinating…
图像是如此令人兴奋,拍摄和编辑乐趣, you can't wait to try the next project.
您只需要一些简单的设置带有基本装备,以产生类似这样的结果…
Joel is no stranger to teaching his style of photography. His tutorials have produced hundreds of happy students with stunning photos. Here's a few of them…
"The tutorials are great for beginners AND more experienced artists…"
Kris Kashtanova
作为一名前学校老师,乔尔(Joel)具有出色的能力,可以以易于理解和跟随的方式教他所知道的知识。
他公开分享他所知道的一切
, the process of coming up with ideas, how to execute them with a camera, and then how to compose it in Photoshop.
这些教程非常适合初学者和经验丰富的艺术家,因为乔尔专注于细节,例如添加阴影和掩盖以增加现实主义。最主要的是他分享了他的概念的来源,为什么不仅美丽的图像,而且充满意义每个看图像的人都可以从中汲取一些东西来深入思考生活。

Angie Lambert
Joel has a gentle way of shining light on each individual's artful abilities. He professionally navigates the complexities of conceptual art anddelivers exceptional education 在每个学生中培养内在艺术家的同时。Regardless of skill level, there is something for everyone to learn from Joel's artful heart and mind.
Tara McDermott
自从我注册以来,我在自己的工作中看到的增长量真是太棒了。幕后瞥见他的工作方式,各种技术的教程(尤其是关于光和阴影)和我不知道存在的Photoshop工具,要使用的模板以及对我作品的批评是无价的。乔尔不仅是优秀的老师delivering material in small doses, he is just a really nice person.
莎拉·罗伊曼(Sarah Roizman)
作为一个繁忙的小企业主,乔尔的产品不仅为我节省了时间,而且还节省了helped me create magical memories with my kids。在我感到创意的时候,他的工作对我有很大帮助。P.S.阴影技术对我来说是改变游戏规则的!"
Joshua Carabajal
班级很棒。教程是非常容易遵循,解释很好。所有的特权绝对是一个加号,与乔尔(Joel)建立联系总是很棒的。
5 Modules for Fantastic Storytelling Photos (Value $199)
1.生活中的一天
乔尔(Joel)参加了最平凡的事件,并将他们变成了充满奇迹的冒险。
Swing from a flower instead of a tree… chat with a giraffe in the sky… read a book from inside a book…
乔尔(Joel)向您展示了如何将普通的日常活动变成令人兴奋的作品……并在Photoshop中使用简单的步骤创建令人jaw目结舌的图像。
2. Flight and Levitation
Have you wished that you could fly? Now you can, with Joel's imaginative flight and levitation projects.
使用您的相机从地面拍照,然后使用几种简单的Photoshop技术将您送入天空。
到本模块结束时,您将能够创建类似的动作和令人难以置信的图像:
3.附魔对象
Is this real life? Is this just fantasy? If you thought there is no escape from reality… think again.
乔尔(Joel)向您展示了如何捕捉一支浮动的放大镜的大军……一只奇怪的手从杯子里伸出……一个令人毛骨悚然的巨型茶壶……还有更多…
You'll capture mysterious and intriguing photos with everyday objects and fun setups.
4. Creative Visions
乔尔(Joel)的图像使我们想知道他是否被困在迪士尼电影中……还是他发现了自己的魔法宇宙。
他创建了带我们旅途的照片,让我们在"冒险家"的幕后窥视。
You'll see how simple it is to create composites like these…
5.不露面的肖像
乔尔(Joel)是心理健康的拥护者,它不仅反映在他的照片中,而且在电子书中也进行了讨论。
If you're too shy to be the focal point of your images… but want to share what's on your mind… this module will be your favorite.
You'll discover unique ways to hide your identity and create abstract images as a result.
添加了新的奖金:动画云(值$ 99)
Throughout the course, you'll discover 30 ways to create adventurous still images…
…但是,如果您想为图像动画以增加运动和深度怎么办?
这正是乔尔(Joel)在本奖金教程中涵盖的友善之处!
You'll discover the exact process he uses in Photoshop… and have the skills needed to transform any of your images with movement.
现在就抓住这个限时奖金了!
奖金1:与公司客户合作(价值$ 99)
如果您想成为专业摄影师,那就不像创建出色的图像那样简单。
You have to grow your network… increase your online presence… and manage clients.
在整个职业生涯中,乔尔(Joel)曾与可口可乐,雅虎和阿杜波(Adobe)等大品牌合作。
And his experience allows him to move confidently in the corporate world.
In this bonus chapter, he shares his techniques for collaborating professionally with high-profile clients.
奖励#2:4张图像的原始PSD文件(值$ 99)
尽管乔尔的图像不需要长时间的编辑,但Photoshop仍然是他流程的关键部分。
这个is all outlined in the video course, but it's helpful to practice他的技术上his photos。
乔尔很友善,可以包括他最受欢迎的4张图像的原始PSD文件:
寻找阳光,异想天开的愿望,向上和向上以及春季秋千。
您可以打开文件并复制他的技术以亲自重新创建图像。
奖励#3:终结冒险灵感游戏(价值$ 99)
Would you like to access Joel's unlimited source of creative inspiration?
实际上,这比您想象的要容易 - 我们开发了这款有趣的游戏,它挑战您提出自己独特的照片。
The idea is so simple, it's based on the popular children's game, "Finish Your Sentence".
Except this time you'll need a necklace of your choice and fate to shape your story. With each swing, you'll have new elements to include in your photo.
Location… Ambiance… Heroes… Actions.
有了将近400种可能的组合,您永远不会用完创意的灵感。
这是我们组合的惊人交易
我们创建了一门有关创意讲故事摄影的视频课程,可适用于任何摄影爱好者。
And to make the method as easy as possible, the video course contains projects that can be recreated from the comfort of your home and garden.
And although the value far exceeds $499.00, we're offering this for a very limited introductory price.
你可以得到:
16小时的"奇妙照片冒险"课程
124-page ebook on Joel's creative process
30 creative "Adventure Cards" cheat sheets
加上上面的强大奖金……
仅有的$99。
如果"奇妙的照片冒险"可以帮助您:
捕获和过程您一生中最美妙的照片…
创造令人兴奋的场景with simple setups…
点燃你的passion for creative storytellingphotography。..
…it will have paid for itself ten times over.
所以,如果你尝试(或感兴趣advancing) your creative storytelling photography… and you'd like to have a guide filmed by a photographer who's a pioneer in the field…
今天只需99美元即可获得"奇妙的照片冒险"。
您可以在几个小时内开始创建异想天开的图像。
单击下面的"添加到购物车"按钮以获取即时访问,100%无风险…
但是有一个陷阱(请仔细阅读)
When we release a new product, we always discount the price for the first 500 people. But it's 500 people only.
For that reason, time is very much "Of the Essence"… I can't stress the time-sensitiveness of this offer enough.
500个视频课程不仅会很快进行,而且在那时,$ 500的折扣将到期。而且我也拿走了奖金。
Why? The reduced price is to celebrate the launch of the new video course. The value of the video course is far higher. It doesn't make long-term sense to sell it for such a low price.
即使以这个岩石的价格,您仍然有权……
我站在我们提供的每种产品。在计划和委托这段视频课程之后,我很高兴将专家摄影的名称放在其中。
SoI'm putting my money where my mouth iswith these two guarantees:
担保#1:如果您不认为梦幻般的照片冒险是您花在创意讲故事摄影上的最佳$ 99……给我发送电子邮件。我将为您提供全额退款。
保证#2:如果您做建议的事情,并且您的结果不佳,I'll refund double your money。All I ask is that you give it an honest effort. How's that for fair?
And these guarantees are good for 90 days after purchase!
乔尔(Joel)是行业领导者……不要错过!
Joel filmed this video course under my brief:
"向我们展示如何使用任何摄影爱好者可以遵循的技巧来捕捉独特和独一无二的照片。"
如果您遵循他的建议,您可以避免错误和平均结果。您可以创建大多数人无法做到的令人jaw目结舌的图像。
So it's decision time: You are free to taking photos like you always did… Or you can take Joel's advice and rapidly improve your creative storytelling photography.
这个simple $99 video course is the only thing standing between you and the stunning photos you see throughout this page.
乔尔(Joel)的方法对像您这样的其他人有效,并且保证了200%,因此您没有任何损失。
这是不费吹灰之力的。
Click the orange Add-To-Cart button below to get started now…
Yours Truly,
Josh Dunlop
Founder, Expert Photography
P.S.- 您可以从创意讲故事的摄影中获得一切所需的一切。而且,您将获得"动画云"奖金项目,"与企业客户的合作"奖金章节," 4张图像的原始PSD文件"和"终结您的冒险"灵感游戏免费。但是请记住 - 500是魔术数字。
FAQ's
How much experience with photography do I need to have to get started?
It's helpful to understand how the basics of Photoshop and exposure work, but everything you need to know is covered in the video course.
How long does it take to capture each image?
Each image takes between 30 minutes and 1 hour to capture, and you can continue to experiment for hours with the same concept if you wish.
May I see the course contents?
当然,我们有30个项目视频,涵盖:
模块1 - 生活中的一天
01 – Spring Swing
02 – An Idea Garden
03 – Unlocking Magic
04 – Lunch With a Friend
05 - 藏身处
06 – The Slow Lane
07 – Golden Glow
Module 2 – Flight and Levitation
08 - 异想天开的愿望
09 – The Grand Adventure
10 - 常客
11 – Circle of Knowledge
12 - 跌倒
13 - 平衡
14 - 冬季的短跑运动员
Module 3 – Enchanted Objects
15 - 向上和向上
16 – Cascade of Comfort
17 - 隐藏和寻找
18 - 时间短暂
19 - Monstrosi-Tea
模块4 - 创意愿景
20 - 寻找阳光
21 – Emerging Artist
22 – Chosen Path
23 – The Black Dog
24 – Change in Perspective
模块5 - 不露面的肖像
25 - 隐藏
26 - 穿过这云
27 - 转型
28 – A Release
29 – When My Mind Leaves
30 - 捕获和释放
How long is the video course?
16 hours. But you don't need to watch it all at once, or even in order. Simply pick an image that interests you, and read the Adventure Card to get started.
这是在线课程,还是您将DVD发送给我?
这个is an online course only. This enables you to access the course immediately, and it enables us to easily add new videos as requested.
我需要什么额外的装备?
您需要的只是相机(或带有良好相机的手机)和三脚架。
Does this course include free software?
No, but the software you need is inexpensive and easy to find. You'll need a copy of Photoshop.
您提供封闭的字幕 /字幕吗?
是的!我很自豪地说,我们为我们的所有在线课程提供这些服务。
Does the course expire or will I have lifetime access?
You will have lifetime access and the video downloads ensure that you can watch them on any device, at any time.
What's your refund policy?
您可以在购买后的90天内获得全额退款 - 没有任何问题。